Our Mission
To break down the barriers that currently exist in the patient-physician relationship, to restore mutual trust and provide excellent individualized primary health care.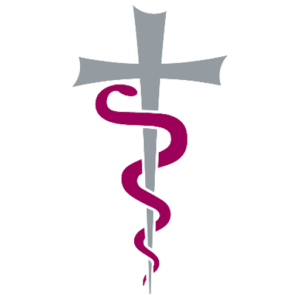 Our Mission
To break down the barriers that currently exist in the patient-physician relationship, to restore mutual trust and provide excellent individualized primary health care.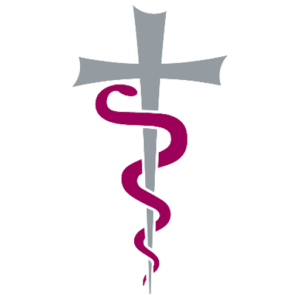 About Direct Primary Care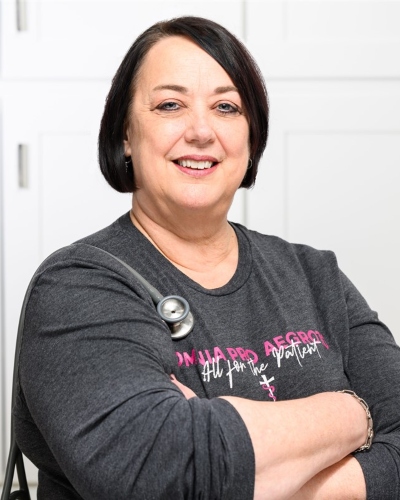 Dr. Jenny Powell
I was born and raised in central Illinois, where I lived until 2006. A small town girl, I married my high school sweetheart, the homecoming king, after attending the University of Illinois for one year as a Pre-Journalism major. I knew that wasn't the direction I was meant to go, but uncertain about my true calling, I married and had children. I worked several different jobs – receptionist for a privately owned aviation company, receptionist for a loan company, bank teller, and an assistant manager for a retail shop. I taught Sunday School, directed church choirs, and raised a couple of children.
When I was 30 years old, God called me to become a physician. I suppose after years of telling Him I'll do what you want me to do, I'll be what you want me to be, He decided to give me a whopper of a goal. But I followed His direction with the faith of Abraham, went back to college, graduated from the University of Illinois with a bachelor's degree in Microbiology, attended the University of Illinois College of Medicine in Peoria, Illinois and then trained at the Southern Illinois University Family Practice Residency in Decatur, Illinois. I graduated from there at age 41, amazed that God had blazed the trail for me.
I worked in Clinton, Illinois for the Sisters of the Third Order of Saint Francis (OSF), and served the people of Dewitt County, Illinois for four years. In order to find suitable farm land for my husband's growing herd of meat goats we turned our eyes to the Ozarks. In August of 2006 I accepted a position with St. John's Clinic (now Mercy Clinic) in Lebanon, Missouri and we moved to one of the most beautiful places in this country.
I have learned to listen to God's call, and follow the direction He leads me. I felt Him encourage me to get out of the insurance business, as frustration grew over the presence of not just the insurance company but also the federal government in the private room where I attempt to serve my patients. The result of the dream God has given me is Direct Primary Care Clinics, LLC. I feel I was called to this profession to serve others, to put the needs of patients above all other concerns, and I trust this "new" model will serve that purpose.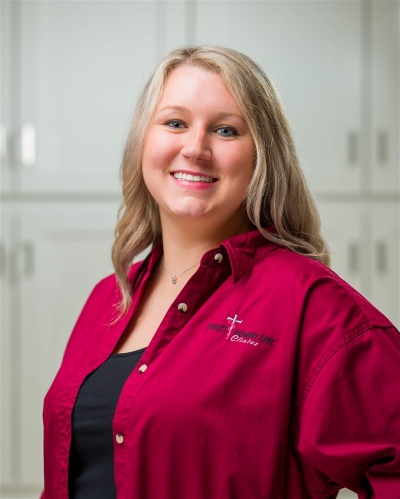 Dr. Shelby Rock
DNP, APRN, FNP-C
I was born and raised in the suburbs of St. Louis. I attended school through a Lutheran church where I learned to live my life for Jesus. I sought God's plan for me through my younger years and vowed to take my life where He led me. I left for college at the University of Missouri in 2012 after graduating from Marquette High School. Initially, I thought God had called me to be an occupational therapist. In my Junior year at Mizzou, I felt the need for change and found a new passion in nursing. I graduated in 2016 with a Bachelor of Science in Nursing and took my first nursing job as a registered nurse at the University of Missouri Healthcare. I had the drive to continue my education and started the Doctor of Nursing Practice (DNP) program at Mizzou in the Summer of 2017. I have a desire to care for rural populations that often lack the necessary resources to maintain a healthy life. I am drawn to primary care because I believe in preventative medicine. I focused my doctoral project on the care and education of patients with congestive heart failure. I completed clinical hours at various clinics in rural Missouri and saw the disparities that exist because of the lack of access to health care. During this time, I also worked as a travel nurse at various hospitals in Missouri. I became discouraged at the inefficient and "one size fits all" care that is provided within large hospital organizations. I was awakened to the barriers that exist in healthcare because of the lack of resources.
My last semester of graduate school I had the opportunity to complete clinical hours with Dr. Powell. She introduced me to a new style of medicine, where affordability and access were no longer an issue. Through Direct Primary Care I had the opportunity to create a relationship with patients and establish mutual trust. I was not limited on the time I could spend with one patient because I had five more in the waiting room. I graduated with my DNP and enthusiastically accepted a position to work with Dr. Powell. I welcomed a new vision of healthcare, where the patient always comes first. Barriers were eliminated and I could care for patients individually. I know that God had a purpose for me, and I believe that daily I live this purpose and can serve Him through this business.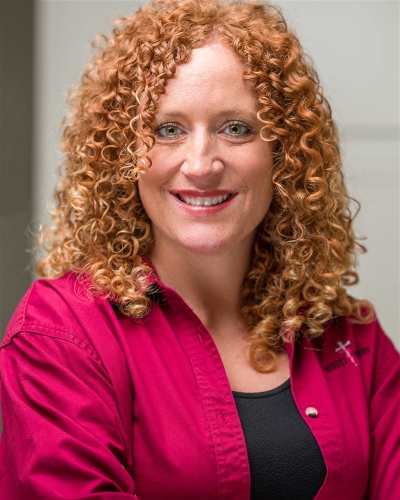 Cira Monnig
FNP
I am a wife and mother to three children. They are involved in many activities which keep me busy. When we are not running around to different activities, we love to plan a weekend away, go hiking, or simply have family time at home.
I started my career as a Nurse Assistant in the hospital. This is when I fell in love with patient care. I moved forward with nursing school, first obtaining my Associate's in Nursing and then my Bachelor's in Nursing. After five years of gaining nursing experience in the ICU at Mercy Hospital and working in a community setting with Burrell Behavioral Health, I decided to get my Master's in Nursing for my Nurse Practitioner. After graduating in 2014, I started working in Family Practice at Central Ozarks Medical Center in Richland and Osage Beach, MO. I spent the next 3 years caring for all ages. I learned that I really loved the ability to build relationships with my patients while working with them to optimize their health care. In 2017 I decided to take an opportunity at Lake Regional Hospital in Pulmonology where I would spend the next 4 years learning, growing, and caring for Pulmonary patients. Over the last year as my relationship with God has grown and our world in healthcare has continued to change, I feel that God opened the doors for a huge change in my career, the opportunity to join Direct Primary Care Clinics. I am so excited to be able to spend more time with my patients and give them the treatment that every person deserves.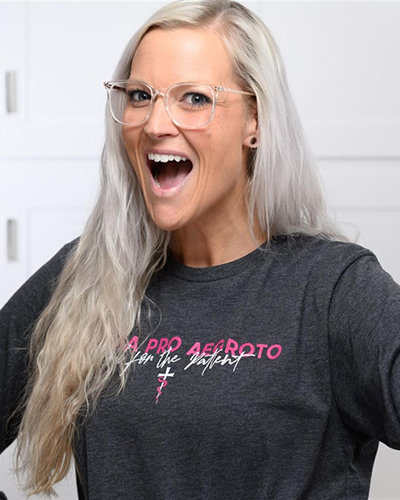 Kirsten
Nurse, Osage Beach Location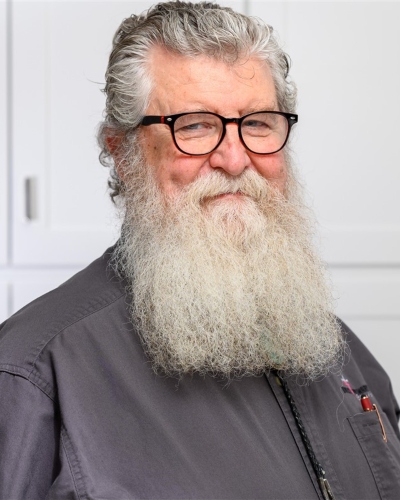 Wes
Reception & Marketing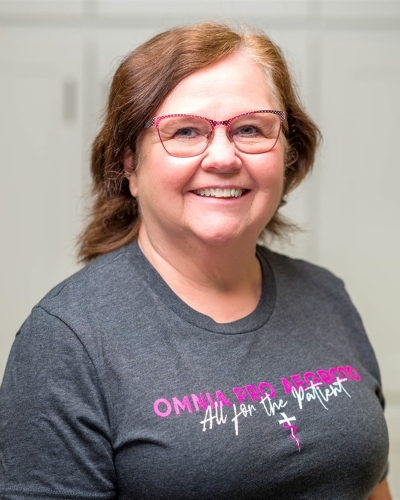 Melva
Part-Time Receptionist